Newport Divorce Mediation Services: A Sensible Approach to Resolving Disputes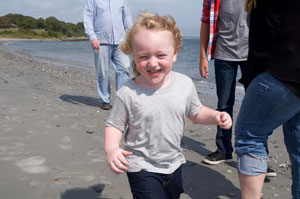 Litigation, the traditional approach to resolving contested divorce issues, is an adversarial process.The two parties stake out opposing positions and battle them out in court with the help of their attorneys. It is a costly process, both financially and emotionally. It results in winners and losers. The ordeal often causes ongoing anger and bitterness.
Mediation: Less Conflict, Less Cost, More Cooperation
Mediation is a form of alternative dispute resolution (ADR) that follows a different model. Instead of two parties battling each, they work together with a neutral third party to resolve their issues. Mediation costs significantly less than courtroom litigation.
The goal of mediation is to achieve a win/win outcome through negotiation. Divorce mediation allows parents of minor children to approach co-parenting without the residue of rancor and resentment that litigation often leaves behind.
A Certified Divorce and Family Law Mediator
Attorney Amey F. Cardullo is a certified mediator who provides divorce and family law mediation services to clients in Newport and the surrounding area. She is certified in Family and Divorce Mediation by the Roger Williams University School of Law.
Ms. Cardullo mediates issues with divorcing couples who want to end their marriage in the most amicable way possible. She does not represent either party as an attorney. Instead, she remains neutral and helps the two parties resolve contested issues.
To arrange an initial consultation about divorce and family law mediation services, please call the Family Law Center at (401) 849-9950 or us the contact form to email us.
The Divorce Mediation Process
As a neutral third party, Ms. Cardullo does not take sides. She meets with each party separately to understand their needs and concerns. She identifies areas of agreement and conflict and seeks to understand the underlying motivation behind the disputed issues.
Is the woman demanding more money in alimony out of spite because the man had an affair, or because she couldn't afford to feed the kids and pay the mortgage on her income without it? Ms. Cardullo gets to the heart of the issues and helps the two parties negotiate an agreement.
She works with the two parties to develop a marital settlement agreement and a property settlement agreement. These agreements will include very specific language that will provide a framework for daily life. Who will take the children to hockey practice? Who will pay for dance lessons? The mediation process continues until all issues are resolved, including:
Clients may retain Ms. Cardullo to mediate one or all divorce issues. Once the contested issues are resolved, the two parties can take the settlement agreements to their respective attorneys for review and filing.
The Benefits of Divorce Mediation
Mediation not only saves divorcing couples time and money, it is confidential. Nothing said in a mediation session can be used against you in court. When disputes are litigated, private issues become part of the public record.
Finally, mediation gives the two parties more control over the outcome of the divorce. Mediated settlements and have higher rates of compliance because the two parties were more involved in creating the terms of the agreement.
If you and your spouse are divorcing, it makes sense to consider mediation first. To learn more, please contact Certified Divorce and Family Law Mediator, Amey F.Cardullo at the Family Law Center. Call (401) 849-9950 or contact us online.
Amey F. Cardullo provides divorce and family law mediation services to clients Newport, Middletown, Portsmouth, Bristol, Jamestown and throughout Rhode Island.